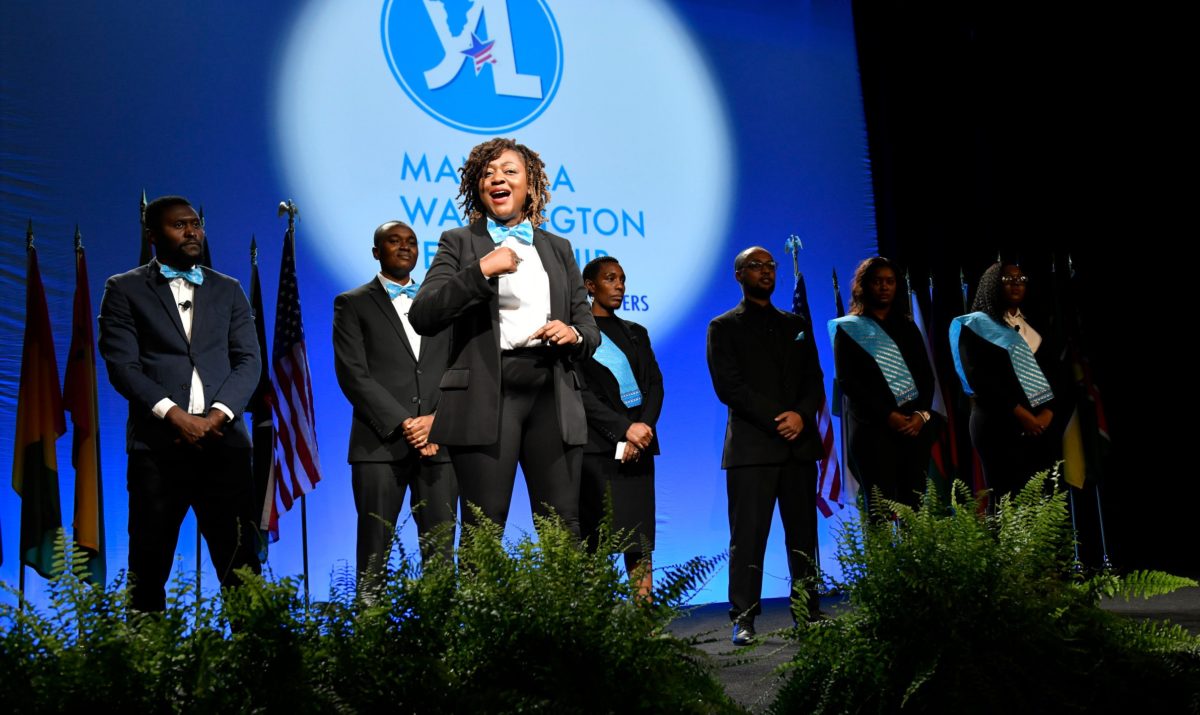 Mandela Washington Fellowship for Young African Leaders 2022
Deadline: September 15, 2021
The Mandela Washington Fellowship for Young African Leaders is the flagship program of the U.S. Government's Young African Leaders Initiative (YALI). Since 2014, nearly 4,400 young leaders from every country in Sub-Saharan Africa have participated in the Fellowship. The Fellows, between the ages of 25 and 35, are accomplished leaders and have established records of promoting innovation and positive impact in their communities and countries.
The Fellowship is an unparalleled opportunity to…
Participate in a six-week Leadership Institute at a U.S. college or university to share your experiences with and also learn from U.S. citizens and other Fellows.
Explore industries beyond your daily work and expand your expertise.
Attend a Summit with young African leaders in Washington, D.C.
Meet with U.S. Government, civic, and business leaders.
Strengthen your work through new connections, skills, and ideas.
Benefits of the Mandela Washington Fellowship
Leadership Institutes
During the Fellowship, the Fellows participate in six-week Leadership Institutes, studying Business, Civic Engagement, or Public Management hosted by U.S. colleges or universities.  Throughout the Institutes, Fellows enrich local U.S. communities while sharing best practices. Learn more about Leadership Institutes.
Mandela Washington Fellowship Summit
After the Institutes, Fellows convene for a Summit, where they forge connections with one another and U.S. leaders from the private, public, and non-profit sectors, setting the stage for long-term engagement between the United States and Africa. Learn more about the Summit.
Professional Development Experiences (PDEs)
Up to 100 competitively-selected Fellows work with private, public, and non-profit organizations for six weeks. Both Fellows and Hosts benefit from discussing shared issues and challenges in their sectors, broadening their perspectives, and positioning U.S. organizations for international engagement.  Learn more about PDEs.
Reciprocal Exchanges
U.S. citizens have the opportunity to apply to travel to Africa to collaborate on projects with Fellows, building upon connections initiated during the program. These partnerships and professional connections are intended to form lasting relationships, expand markets and networks, and also increase mutual understanding. Learn more about Reciprocal Exchanges.
Opportunities for Alumni
Fellowship Alumni continue to build the skills and connections developed during the program through access to ongoing professional development, networking, and collaboration opportunities with support from the U.S. Department of State and affiliated partners. Learn more about opportunities for Alumni.
Eligibility
Applicants will not be discriminated against on the basis of race, color, gender, religion, socioeconomic status, disability, sexual orientation, or gender identity.  The Mandela Washington Fellowship is open to young African leaders who meet the following criteria:
Are between the ages of 25 and 35 on or before the application deadline, although exceptional applicants ages 21-24 will be considered;

Not U.S. citizens or permanent residents of the United States;

Eligible to receive a United States J-1 visa;

Not employees or immediate family members of employees of the U.S. Government (including a U.S. embassy or consulate, USAID, or other U.S. Government entity);

Proficient in reading, writing, and also speaking English (additional guidance coming for applicants who are deaf);

Be citizens of one of the following countries: Angola, Benin, Botswana, Burkina Faso, Burundi, Cameroon, Cabo Verde, Central African Republic, Chad, Comoros, Republic of the Congo, Democratic Republic of the Congo (DRC), Cote d'Ivoire, Djibouti, Equatorial Guinea, Eritrea, Eswatini, Ethiopia, Gabon, The Gambia, Ghana, Guinea, Guinea-Bissau, Kenya, Lesotho, Liberia, Madagascar, Malawi, Mali, Mauritania, Mauritius, Mozambique, Namibia, Niger, Nigeria, Rwanda, Sao Tome and Principe, Senegal, Seychelles, Sierra Leone, Somalia, South Africa, South Sudan, Sudan, Tanzania, Togo, Uganda, Zambia, or Zimbabwe;

Are residents of one of the above countries; and

Are not Alumni of the Mandela Washington Fellowship.
Criteria for Selection
The following criteria will be used to evaluate applications (not in order of importance):
A proven record of leadership and accomplishment in business, civic engagement, or public service;

A demonstrated commitment to public or community service, volunteerism, or mentorship;

The ability to work cooperatively in diverse groups and also to respect the opinions of others;

Strong social and communication skills;

An energetic, positive attitude;

A demonstrated knowledge of, interest in, and also professional experience in the preferred sector/track; and

A commitment to return to Africa and apply leadership skills and also training to benefit the applicant's country and/or community after they return home.
---
---
For more details on the Mandela Washington Fellowship Program for 2022, you can also visit the official website here.