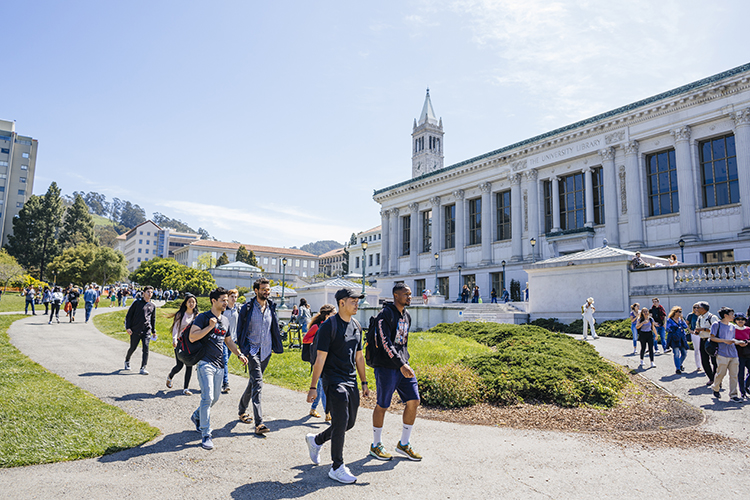 University of California Berkeley Mastercard Scholars Program for young Africans 2021/2022
Deadline: 14th January, 2021
The University of California, Berkeley (UC Berkeley) has partnered with the Mastercard Foundation in a collaborative, global network of education institutions and non-profit organizations that believe education is a catalyst for social and economic advancement. The future of Africa will be shaped by its young people, including those talented, yet economically disadvantaged students who face significant barriers to accessing quality education.
The Scholars Program aims to develop a cohort of ethical, entrepreneurial, and energetic young leaders who will drive and lead socio-economic transformation in Africa. The first phase of the Program has benefitted 35,000 young people over 10 years, mostly in Sub-Saharan Africa. At UC Berkeley, the Program has provided comprehensive financial, social, and academic support to 123 bachelors' and masters' degree students from 2012 to 2020.
ELIGIBILITY
The five main eligibility criteria are:
Being a citizen of a Sub-Saharan African country – If you have refugee status, are stateless, or have other questions regarding your citizenship, you may still be eligible. Please contact us directly to clarify. This scholarship is not intended for citizens of North African countries.
Excelling academically – All prospective Scholars must first be admitted to UC Berkeley to be considered for the Scholarship. An important criteria for admission to the University is demonstrated academic excellence.
Coming from an economically disadvantaged background – We aim to admit those from the bottom two income quintiles per country. This Scholarship is designed for those extremely talented individuals who have no other means of acquiring the further education required to help realize their dreams and ambitions.
Having demonstrated the will to give back to your community, country, or continent – We are looking for well-rounded students who are engaged in activities beyond the classroom. Some may be directly related to your field of study, but this may also include other issues (social, economic, political) that you are working on and passionate about. Applicants should elaborate on their achievements both in their application to UC Berkeley, and then later on the Scholarship application.
Having expressed the desire and intention to return to your home country after completing your studies – We are looking for students who are engaged with and passionate about issues affecting their communities, and who will take advantage of their education at UC Berkeley to better equip themselves with the knowledge and training to address these issues upon return. While important work can be done from abroad, the intention of this Program is to enable Scholars to return home, after forming valuable professional connections through internship and job placements.
REQUIREMENTS
Basic Requirements
The minimum graduate admission requirements are:
A bachelor's degree or recognized equivalent from an accredited institution;

A satisfactory scholastic average, usually a minimum grade-point average (GPA) of 3.0 (B) on a 4.0 scale; and

Enough undergraduate training to do graduate work in your chosen field.
Satisfying minimal standards, however, does not guarantee your admission, since the number of qualified applicants far exceeds the number of places available. As a result, many well-qualified applicants cannot be accommodated.
Many departments and groups have additional requirements, including the GRE, TOEFL score minimums, and GPA minimums. Please check the information provided by the department for additional requirements.
International Applicants
Graduates of recognized academic institutions outside the United States should hold a degree equivalent to a U.S. bachelor's degree. Equivalency is determined by International Evaluators in the Graduate Admissions Office.
Required Records: Upload unofficial transcripts with the application for the departmental initial review. Official transcripts or academic records for all university-level studies you have completed, at U.S. institutions and abroad will be required if admitted and decide to attend. If your academic records do not include official evidence of the award of your degree, you must also submit additional documents that verify the degree conferral. For information about the documents required for an initial review of your application, contact the department or program to which you are applying.
Academic records should be issued in the original language and accompanied by English translations if required (usually prepared by your university or Ministry of Education, unless the institution issues original documents in English). In general, records or transcripts must be issued by the school and include the school's stamp or embossed seal and the signature of the authorizing official. For more detailed information on acceptable documents, please contact your prospective department or Graduate Admissions.
---
---
Evidence of English Language Proficiency
All applicants from countries/regions in which the official language is not English are required to submit official evidence of English language proficiency. This requirement applies to applicants from Bangladesh, Nepal, India, Pakistan, Latin America, the Middle East, Israel, the People's Republic of China, Taiwan, Japan, Korea, Southeast Asia, most European countries, and non-English-speaking countries in Africa.
If you have completed at least one year of full-time academic course work with grades of B or better in residence at a recognized U.S. institution, you do not need to take a standardized test. Instead, you must upload an unofficial transcript from the recognized U.S. institution.
To qualify for a TOEFL exemption you must:
Have a basic degree from a recognized institution in a country where the official language is English.

Have completed a basic or advanced degree at an institution, in the United States or a United States institution abroad, where the language of instruction is English and the institution is accredited by one of the United States' regional accrediting agencies.

Have completed at least one year of full-time academic course work with a grade B or better at a regionally accredited institution within the United States.
There are two standardized tests you may take: the Test of English as a Foreign Language (TOEFL), and the International English Language Testing System (IELTS).
APPLICATION
Both undergraduate and graduate degree seekers must first be admitted to the university through the regular admissions process before they will be considered for the MasterCard Foundations Program Scholarship. The Office of Undergraduate Admissions and the Graduate Division provide detailed information on the admissions process for international students. Questions regarding admission requirements should be directed toward the appropriate Admissions Office.
---
---
For more information, visit their official webpage here.