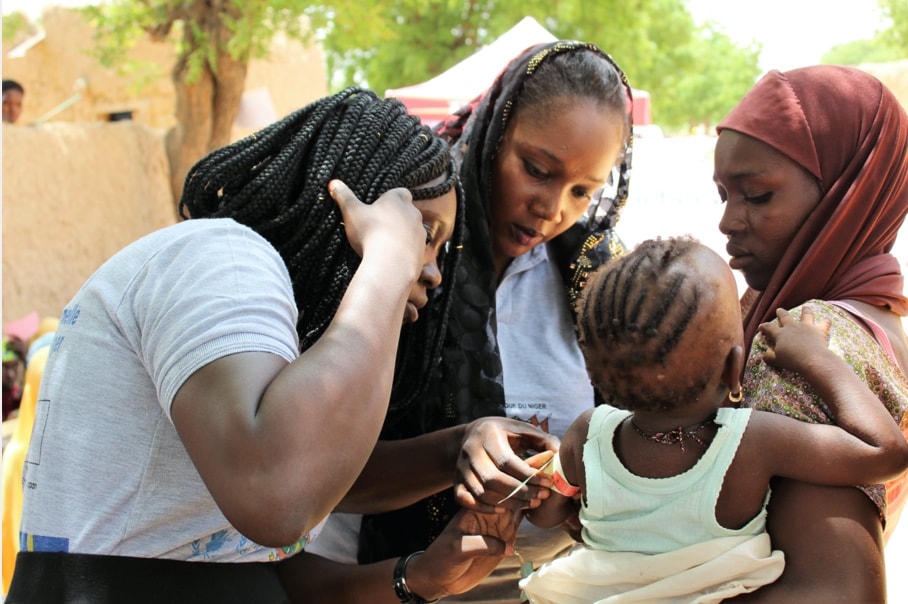 The Catholic Relief Services International Development Fellows Program
Catholic Relief Services' International Development Fellows Program prepares dedicated global citizens to pursue a career in international relief & development work. CRS empowers Fellows to hone their skills and gain practical field experience while contributing to impactful work. Each Fellow works alongside experienced CRS staff to address critical issues facing developing countries today. CRS invites applicants of diverse backgrounds who are committed to our agency mission and strategy to join our global team.
DESIGNED TO PREPARE FELLOWS FOR SUCCESS
The Catholic Relief Services Fellowship is a unique 12-month professional development opportunity, designed to prepare Fellows for success in a range of onward positions with CRS. By completing this training program, Fellows are competitive candidates for a wide range of positions with CRS. The Fellowship is centered upon skill building in the following four areas:
Project Management
Activity planning & implementation
Monitoring, evaluation, accountability & learning
Resource/budget management
Reporting
Project Design/Proposal Development
Research, assessments, analysis
Participatory design
Results framework & theory of change
Technical and cost applications
Systems & Operations
Supply chain and logistics
Human Resources
Finance
Risk & compliance
Safety & security
Partnership
Project planning & implementation
Capacity strengthening
Partnership reflection & assessment
MAKE A DIFFERENCE
CRS works with a vast network of partners to engender sustainable change and provide lifesaving help when emergencies arise. Fellows support CRS' impactful work in a wide variety of sectors and assume varying levels of responsibility.
Common Fellowship Tasks
Lead new emergency response projects

Serve as interim project manager

Participate in the design of new projects

Oversee assessments and data collection

Develop accountability frameworks

Write reports and proposals
Recent countries that have hosted Fellows are highlighted on the map below.
REALIZE YOUR POTENTIAL
Many Fellows build a career with CRS after completing the Fellowship. Each year, nearly all graduating Fellows apply and accept offers for onward positions with CRS. Fellows usually transition directly to positions in program management, program quality, business development, or monitoring, evaluation, accountability and learning. Former-Fellows typically move between different regions and roles as they assume positions of greater responsibility with CRS. Hover over the pictures below to view some of the positions that Fellows have held since their Fellowship year.
A PARTNERSHIP FOR HEALTH & SUCCESS
At CRS, we value employee health and well-being and provide comprehensive benefits to meet your needs and those of your family. Benefits include an international PPO medical plan, dental and vision insurance, generous leave, a highly competitive retirement program, and family-friendly allowances for overseas staff. CRS also prioritizes and invests in staff safety and security and provides travel and property insurance, disability coverage and Employee Assistance Programs.
MEDICAL/DENTAL/VISION
Fellows enjoy an international PPO medical plan as well as vision coverage with zero deductible for in-network providers and low coinsurance and copayments.
SAFE FURNISHED HOUSING
Catholic Relief Services provides each Fellow with basic furnished housing, which includes electricity, running water, internet and security services (if necessary). The Fellow's housing is usually an apartment or house near the CRS office.
PAID TIME OFF (VACATION, SICK, & PERSONAL)
CRS provides Fellows 20 days of paid vacation along with 12 days of sick leave annually. In addition, we offer 4 personal days to attend to emergency or non-emergency situations occurring during a normally scheduled work day.
TRAVEL & MEDICAL EVACUATION
CRS covers relocation costs such as transportation to and from the country of assignment, visas, inoculations, etc. Additionally, CRS provides 100% employer-funded medical evacuation coverage for the Fellow and their dependents.
RETIREMENT BENEFITS (403B)
CRS offers a 50% match on the first 6% of contributions as well as a contribution of 7% of pay regardless of employee contributions, after six months of service. (Note: Employees without a social security number are eligible to participate in an offshore retirement fund with the same contribution calculation.)
CONTINUED EDUCATION
Upon hire, Fellows have access to CRS' robust online learning platform. Additionally, CRS will reimburse up to $5,200 per year for employees pursuing degrees and professional certifications, after one year of employment.
Eligibility
We seek diverse and aligned candidates, and welcome people of all faiths and secular traditions who share our values and our commitment to serving those in need.
Minimum Fellowship Requirements
Graduate degree in a relevant field

At least six months work or volunteer experience in a developing country

Fluency in English with strong oral and written commmunication skills

Professional proficiency in a second language (preference given to French, Arabic and Portuguese)

Willingness to work in locations with tropical and infectious diseases and limited access to medical facilities.
Please visit the FAQs to review the cover letter requirements.
---
---
For more information on the CRS International Development Fellows Program, visit the official website here.